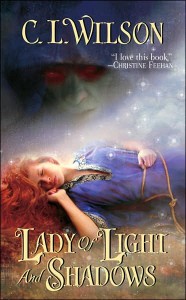 A little less than a month ago, I posted a review of C.L. Wilson's novel, Lord of the Fading Lands, the first book in the Tairen Soul series. I thoroughly enjoyed it and couldn't wait to read the second, Lady of Light and Shadows. Yesterday I finished it, and here is my review!
In Lord of the Fading Lands, we met Rain Tairen Soul, King of the Fey, and his newly claimed truemate, Ellysetta (Ellie) Baristani. The Tairen and the Fey are in danger of dying out, and when Rain appealed to the gods for a way to save his people, they led him to Celieria City in the land of Celieria — and to Ellysetta, a peasant, a woodcutter's daughter.
The first novel spent a lot of time introducing Ellie and Rain and the tensions caused by their mating. In Celieria, the social class structure is very rigid, and many of the nobles weren't willing to welcome someone they considered a common peasant among their ranks. But at Rain's insistence, people gradually start to warm up to the idea. Dorian, the King of Celieria, is also part Fey and so he's sympathetic as well. Ellie is trying her hardest to become "cultured" into the noble society. Plans for her and Rain's wedding are under way. After the wedding, the two will head to the Fading Lands, where Rain hopes Ellie can help him figure out a way to save the Tairen and the Fey.